FIP brand has been known in the industrial branch since 1954. Today FIP is known as one of the Europes largest manufacturers of the plastic valves for industrial applications.
Industrial Pipesystems:
Industrial Pipesystems
The program of fittings and valves produced by FIP covers thermoplastics PVC-U, PVC-C, ABS, PE, PP-H ir PVDF. It offers solutions for different industries like:
POTABLE WATER TREATMENT, CHEMICAL, TEXTILE, PHARMACEUTICAL, ELECTRICAL EQUIPMENT, METALS, MINING etc.
The manufacturer's quality standards ensure the reliability and durability of its products under extreme conditions e.g. at forwarding aggressive liquids at high temperatures.
INDUSTRIAL PIPESYSTEMS
PVC-U Pipes, Fittings and Valves

T° from 0 to 60°С
PN 16 bar
d from 16 to 315 mm
PP Pipes, Fittings and Valves

T° from 0 to 100°С
PN 10 bar
d from 16 to 500 mm
PVC-C Pipes, Fittings and ValvesTemperFIP

T° from 0 to 100°С
PN 16 bar
d from 16 to 255 mm
PVDF Pipes, Fittings and Valves

T° from -40 to 140°С
PN 16 bar
d from 16 to 400 mm
Actuated Shut off Valves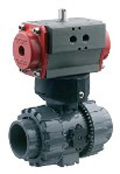 Electric Actuators
Pneumatic Actuators
Solenoid Valves
Variable Area Flow Meters

Liquid and Gas Meters
Special Scales
Flow Meters FLS

Monitors
Debit Meters
Installation Fittings
Analytical Equipment, CHEM X3-pH Meters

Conductivity Meters
Temperature Sensors